Your Turn Has Come – You Can Stop This
The Truckee Donner Land Trust is finally submitting an application to Nevada County for a permit to lower Van Norden Dam and drain Van Norden Lake and wetlands (view the application announcement and other documents by clicking here).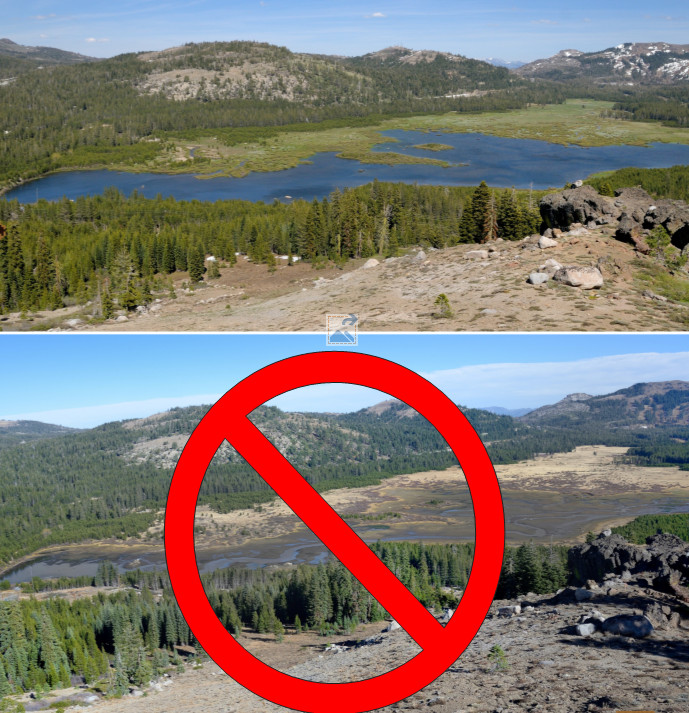 THIS IS NOT A DONE DEAL. 
Now is YOUR  time to make your opposition to this project known to County officials. We cannot stress enough that you do have a say in what happens to Van Norden Lake and wetlands and the future of the Donner Summit Valley.
It would probably be most effective if you can send an email directly to Jessica Hankins, the Senior Nevada County Planner responsible for managing the application. We would refer you to her contact information and some important points that you may want to use in your response below.
We know that many of you have busy lives so if you find it easier you can also fill out an online form that we will pass on to Jessica by clicking here.
WITH YOUR SUPPORT WE CAN STOP THIS FROM HAPPENING

SEND AN EMAIL TO JESSICA HANKINS
Jessica is the Nevada County Senior Planner that is managing the application. You can email her at Jessica.Hankins@co.nevada.ca.us
You might want to consider including the following points in your message:
The Truckee Donner Land Trust is trying to set the baseline for their project as if there was no lake in the Valley. This ploy is to avoid a true and honest evaluation of the environmental degradation the removal of the lake would cause. It is important to stress that the true baseline for this project does include the lake and wetlands which will be removed by this project.
The Land Trust may also try to lessen the environmental oversight of this project by posing it as a simple Negative Declaration. It is important to stress that the severe environmental consequences of draining Van Norden Lake require that there be a full Environmental Impact Report (EIR) filed for this project.
Van Norden Lake and wetlands are important habitats that support a rich environment of fauna and flora that increases the biodiversity of the Donner Summit Valley.
The lake and wetlands are the only source of water in the Donner Summit Valley during summer and fall that maintain the groundwater aquifer and the open water and wetlands for fish, water fowl, and migratory birds.
There are almost 20 acres of excellent breeding habitat for the Western Toad provided by the shallow lake. Tens of thousands of young toads populate the Valley every year. All of this habitat will be destroyed without the lake.
The lake is both a recreational and ecological resource that attracts visitors to the Donner Summit area that helps support the local economy.
In this time of climate change and predictions of drier winters and summers, decreasing the storage of water in the Donner Summit Valley makes no sense both from a water resources point of view as well as a fire safety consideration.