Conservation efforts in today's changing world are experiencing a wave of new ideas. This change in traditional thinking was recently discussed in a New York Times article and is also championed by the authors David Cole and Laurie Yung in their book "Beyond Naturalness" (2010, Island Press), both of  which we highly recommend. Rather than thinking of nature conservation as a rigid back to past policy, the new conservation looks forward to the expected changes in climate and development and tries to adapt to optimize the natural environment to that reality.
There are some real lessons from this new way of thinking that apply to the current efforts going on in the Donner Summit Valley. The Truckee Donner Land Trust and US Forest service are currently considering a plan for a classic "restoration" of the meadow in the Summit Valley. The plan proposes to return the meadow to the seasonal wet meadow that existed before the pioneers came to California. A very classical conservation approach.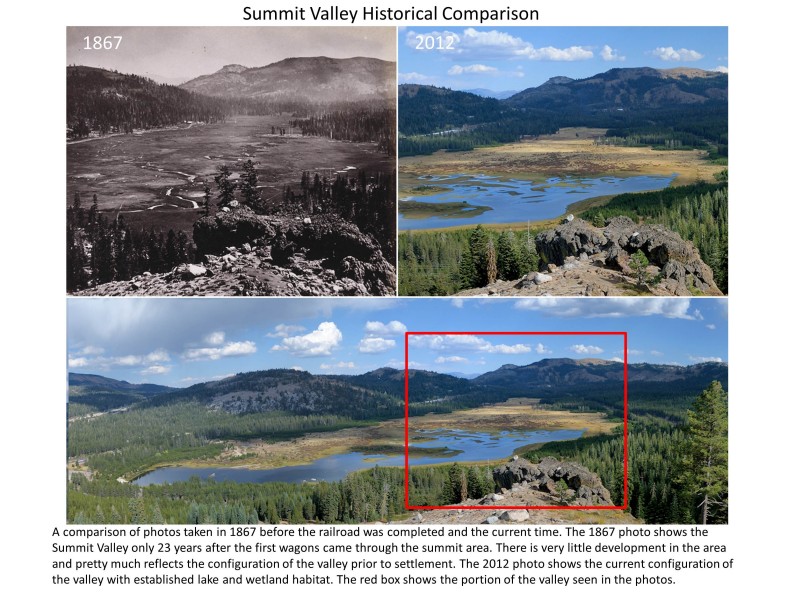 What the plan does not take into account is that as a result of a serendipitous chain of events over the last 150 years, nature has established a new set of habitats in the valley in addition to the existing seasonal wet meadow. The remnants of the PG&E Van Norden Dam have, much like a glacial moraine, created a unique area of shallow open water lake and surrounding wetlands that over the last 3 decades have established new habitats that have provided the Summit Valley with rich new biodiversity. In a world of warming climate and the threat of continuing drought for California, this new lake and wetland habitat is an a oasis against the changing Sierra landscape.
We see the conservation of Van Norden Lake and wetlands as a page right out of the new conservation movement. It does not make sense to destroy the unique and valuable aquatic habitat that has successfully established itself in the valley for the sake of trying to expand a traditional landscape that already exists in the majority of the valley. It would seem to us that nature should be the arbiter of what the future of the valley should look like and for all intents and purposes nature has made its decision. When given the chance, nature always opts to increase diversity.