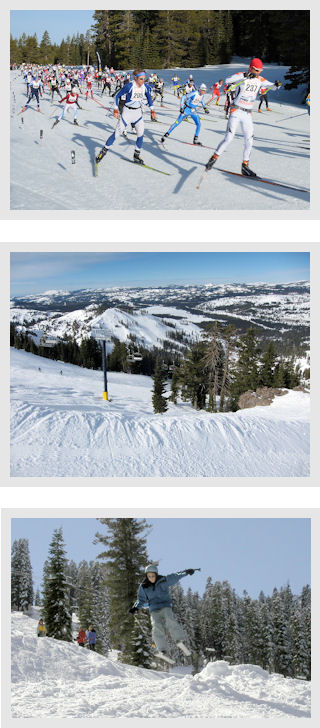 When people think of the Donner Summit area it is the snow that they probably think of first. The abundance of snow in the area makes it a premiere area for snowboarding and nordic, alpine and back country skiing. There are no less than 6 ski resorts in the area catering to all types of skiing. Royal Gorge advertises itself as the largest cross country ski area in the country and they have a rich variety of groomed and back country trails for skaters, striders and back country enthusiasts. There are also large areas of national forest land for skiers that wish to strike out into the Sierra back country. Huts maintained by the Sierra Club such as Peter Grubb and Benson afford back country skiers destinations with unparalled views of the Sierras in winter.
Resorts for Alpine skiers of every level abound in the area. For boarders and hot doggers, Boreal resort offers terrain parks and night skiing all season. For families there are small resorts that offer excellent runs for beginners and intermediates at reasonable prices. And for the big mountain skiers, Sugarbowl offers runs at every level from three large mountains.
An advantage of skiing at the summit is that it is close to the major metropolitan areas of Sacramento and San Francisco. Many of the ski areas are located on Donner Pass road on the west side of Donner Summit, just a mile or two from Interstate 80. Access is usually open except with really large storms. However, chains are a must in the area because even if Hwy 80 is open, the roads accessing the resorts may be snowy. It's always a good idea to check road conditions in the area with CalTrans. There are also many lodging opportunities in the area for extended ski weekends. The communities of Serene Lakes and Tahoe-Donner have many beautiful mountain cabins for rent to skiers.
Ski Resorts
Trail Maps
Lodging