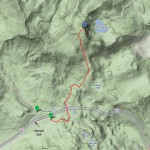 Distance: 5.8 miles roundtrip
Elevation gain: 1581 ft
Maximum elevation: 8650 ft
Difficulty: Moderate
Start: Parking area at end of Bunny Hill Rd
Activities: Hike
Frog Lake overlook (39°22'3.29″N, 120°19'44.88″W) is on the east approach to Castle Peak. It dramatically overlooks Frog Lake. In addition to the view of Frog Lake, it affords spectacular views of Donner Pass and the east side of Castle Peak.
The trail starts at the parking area at the end of Bunny Hill Rd which can be accessed from the Boreal exit on Hwy 80. The start of the trail is clearly marked and there are informative signs along the trail about the forest habitat. Follow the winding trail for about a half mile to a trail junction. Take the trail to the left (north) towards Hwy 80. The trail crosses Hwy 80 through an underpass. Once on the north side of Hwy 80 there is another trail junction. Take the trail to the right heading east. From here the trail climbs steadily up through the forest until it comes out onto the open rocky ridge that is the east shoulder of the Castle Peak massif. At the trail junction at the top of the ridge turn right up to the ridge above Frog Lake. The cliffs are sheer on the east side of the ridge making the view to the east quite dramatic. If you are hiking with dogs, it is probably a good idea to keep control of them due to these sheer cliffs.

Elevation profile – one way