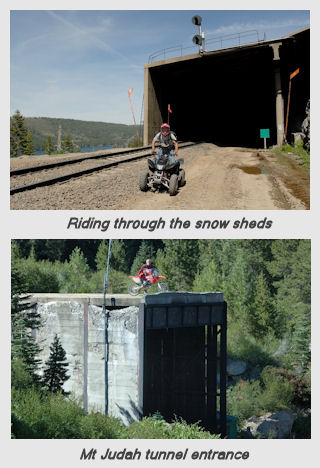 Many of the roads in the Donner Summit area are old unpaved logging roads that now offer the off road enthusiast miles of roads to explore. However, many of these tracks are on private property so riders have to be careful to observe property signs. There are also fragile forest and meadow areas that should be avoided.It is best to stick to the unpaved public access roads like Soda Springs Road and Kidd Lake Road. All of the offroad riding areas are green sticker areas.
Off roading activity has increased in the summit area in last 5 years with the advent of the popular ATV. During the summer it is common to see groups of ATVs and dirt bikes plying the backroads of the summit.
Probably the most popular ride is down old Soda Springs Road at the south end of Serene Lakes. The road traverses the Soda Springs basin area, part of the headwaters of the American River, and the Royal Gorge area. A popular destination is Wabena Creek overlook (see the route on the trails map below). The unpaved road is kept in pretty good shape although the are many rough areas. Early in the summer the road is pretty wet with water crossings common. Later the road is dry and loose and can be pretty dusty. There are many blind corners and riders should be cautious because there is often auto traffic that heads down to the Cedars community at the bottom of the grade. The road winds down into the basin, through the Cedars area and then along the south rim of Royal Gorge. This area is criss crossed with active logging roads (watch out for logging trucks and equipment). There are spectacular views of the gorge and the surrounding peaks that can be distracting. As the road approaches Wabena creek area it is easy to get off track on one of the many logging roads so it's a good idea to pay attention.
Another ride that is somewhat unique is the ride through the abandoned railroad snow sheds through Donner Pass (see map below). The area is approachable from the parking area across from Donner Ski Ranch. The tunnels and snow shed can be pretty dark in spots, so a working headlight and slow going is advised for this ride. There are also quite a few people that hike into the shed, so riders should keep their eyes open for pedestrians. The sheds go on for about three miles towards Donner Lake. There are openings and gaps in the shed that allow great views of the lake. The old track bed extends down to the current railroad tracks that come out of the Mt Judah tunnel.
Download: Wabena Creek KML file  —  Donner Pass snowshed KML file