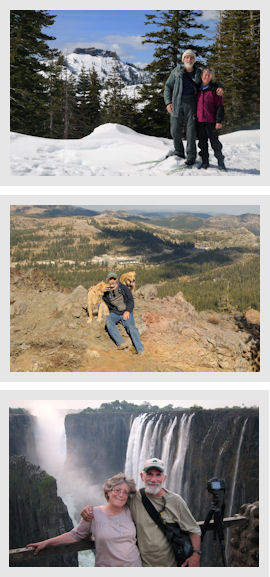 Welcome to our new site about the Donner Summit area in the Sierra-Nevada mountains in California. My wife Linda and I were lucky enough to retire early a few years ago and have taken up residence in the vacation community of Serene Lakes which is in the summit area. We now spend our time enjoying activities on the summit with our Golden Retrievers, Calla and Maggie. When we're not on the summit we are usually traveling, both around the US and around the world.
We enjoy the summit area so much we thought we should share our experiences through this site to help others enjoy it as much as we do. The site is set up in a guide book like format that covers mostly the activities that we ourselves enjoy. The information comes primarily from our own experiences supplemented with pertinent reference materials. Photography has been a passion in my life and I have been photographing the summit area for over 10 years. Many of those photos will be showcased on this site both for informative and aesthetic purposes.
The site will also include this blog that will discuss topics about happenings on the summit. The articles will supplement the activity guides with additional and timely information. They will also discuss some of the aspects of living in such a spectacular location. We also plan to use the forum to discuss our experiences traveling off of the summit. We have been fortunate to be able to travel to many places in California, the US and the world and we will be sharing some of those trips.
We of course are learning new things every day and we make no pretense that we speak as experts. We welcome constructive feedback comments for this blog and also for any of our guides. Suggestions about making our site more informative are also welcome. We are sure that there are many things yet to learn about the summit area and we look forward to hearing from our readers about new things happening on the summit.
So welcome again, and we hope to see you "On the Summit".
George & Linda