PG&E Power Line Clearing in Summit Valley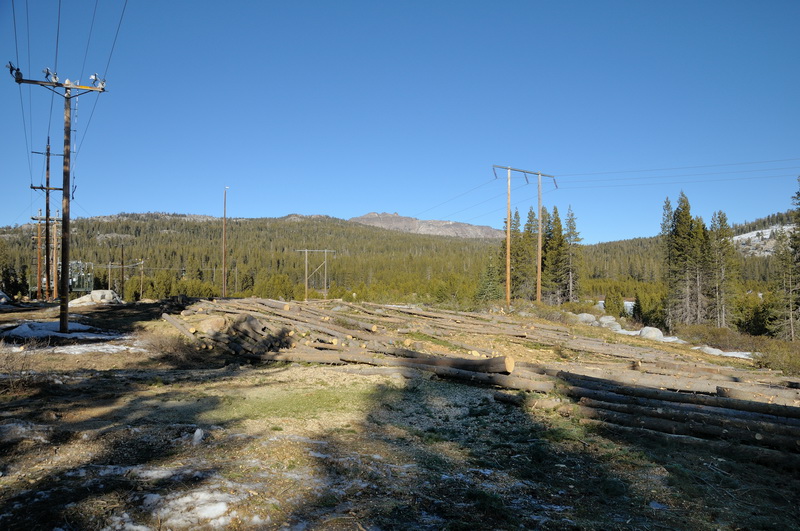 Anyone driving up Soda Springs road will notice that there is a new view of Van Norden Meadow from the road. That new clarity is due to a forest clearing project by PG&E that started last September. Apparently PG&E was directed by the Feds to clear more area under their power lines that run through Van Norden Meadow. According to the logging crew manager, the purpose of the project was to widen the cleared area under their lines by 30 ft on each side.
The project started in September and proceeded from east to west starting near Sugar Bowl. The area near Soda Springs Rd required additional clearing because the two sets of power lines diverge in this area and are farther apart.
In the past PG&E cleared narrow areas under each set of lines leaving an intervening band of forest. For this project the borders were widened and the intervening forest was cleared, leaving over a 200 ft wide cleared area. There are a lot of downed trees out there now that I assume PG&E will be removing in the spring when weather conditions permit. The result of this project is not only a more fire safe meadow, but we also have a brand new view of Van Norden Lake and Meadow.
Update 1/27/14 – It turns out that it is the land owner that is responsible for removing the felled trees. That means the Truckee Donner Land Trust is on the hook to remove the trees. I assume that will happen next summer when the weather permits. The trees are primarily Lodgepole pines which means they will only be used for firewood or chipping.