Kayaking on Lake Van Norden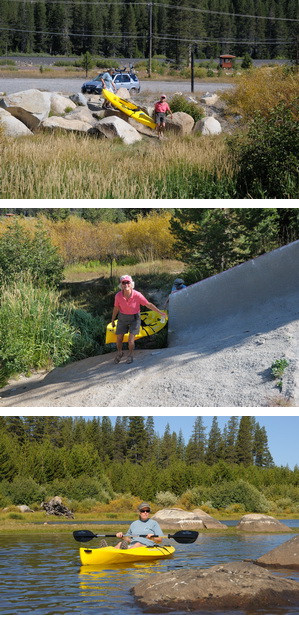 Lake Van Norden is located in the center of the summit area and is the head waters of the Yuba River. The lake is fed by the snow accumulation in surrounding water shed and is usually at it's peak in May and early June. The heavy snow that came late in the season this year has extended the high flow of the Yuba and the peak level of the Lake well into July. It is only in the last week that the flow over the spillway out of the lake has lessened enough that it can be safely walked through. This means it's time to get the kayaks out for a paddling tour of this relatively pristine lake. The lake is shallow and it shrinks in size as the snow melt drains down the Yuba, so it is when it is at its peak that kayakers can really go way back into the lake. The shallow draft of a kayak makes it the best way to explore the lake.
The lake is right on the edge of the Pacific Flyway and a fair number of water fowl and migratory birds pass through, with many of them nesting in the reeds surrounding the lake. There are resident populations of Canada Geese, Mallards and Grebes and starting now you can spot formations of ducklings and young goslings out in the lake. As you paddle around the shore you can spot coyote hunting for nests and their contents. If you are lucky you may run across a what looks like an injured duck or grebe, doing alot of splashing around with a seemingly injured wing. Don't be too alarmed, this is the favorite ploy for a concerned parent that is trying to draw you away from their nest. Somewhere on your paddle you will probably also spot an Osprey hunting for fish in the lake. If you are really lucky, you might spot one of the Bald Eagles that sometimes hunt in the lake. The largest avian visitor to the lake, is the White Pelican. These large white birds with yellow beaks and black tips on their wings pass through all summer and can usually be seen resting on a rock or bobbing out in the lake. They will also often fly over the lake in large wheeling formations.
Getting out on the lake will require a short "portage" out through the spillway. This can be a little tricky this year because the flow is still pretty high at the edge of the spillway. It is best to have at least two people to carry the kayak, and be ready to do a little scrambling up the rough concrete surface of the spillway. Paddling around the lake at its peak size is a good workout and sitting out in the middle of the lake surrounded by the mountains of the summit is a real treat.